Storm water pollution prevention inspection & oversight are a pain
for MS4s, DOTs, builders, developers, contractors, consultants and environmental agencies.

But not anymore. . .with SWPPPTrack!
With SWPPPTrack you'll save tons of time and be much more effective.
Developed in collaboration with industry and public sector professionals, SWPPPTrack strips away work, wasted time, cumbersome processes and paper from SWPPP inspections, follow up and oversight.
SWPPPTrack's easy-to-use mobile inspection app streamlines inspections. Our automated workflow processes, comprehensive reporting suite and powerful communication engines do everything else...Automatically! Your work is reduced to just one simple step!
How SWPPPTrack Works -
Inspections Simplified:
Simply walk a site with your smartphone.
The SWPPPTrack inspection app guides inspectors through an easy-to-use inspection process that is custom-tailored for your organization. Inspectors simply dictate notes as they walk and can even add photos.
At the end of your walk touch submit and your inspection is complete.
AND instantly, so is every other post inspection task you are accustomed to dealing with!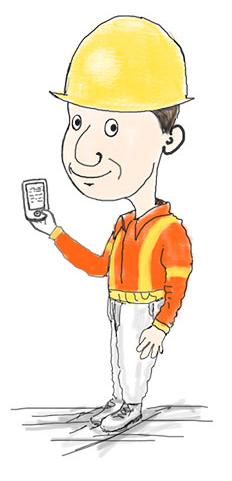 SWPPPTrack does the rest - Automatically!
No More Time Wasted:
creating and sending reports.
creating and sending work items and deficiencies.
playing phone or email tag with project stakeholders.
keeping track of work item completion.
keeping track of inspection scheduling and timeliness.
keeping track of weather events.
keeping track of documents and people affiliated with your projects.
It's all done for you with just the touch of the screen!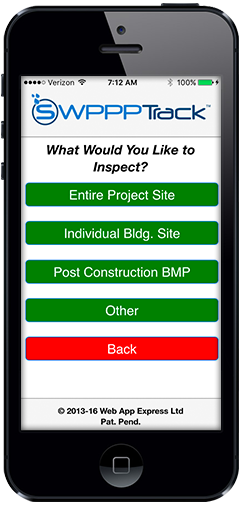 SWPPPTrack gives you the flexibility to perform inspections and track data for entire projects, individual building sites, post construction BMPs and even citizen concerns.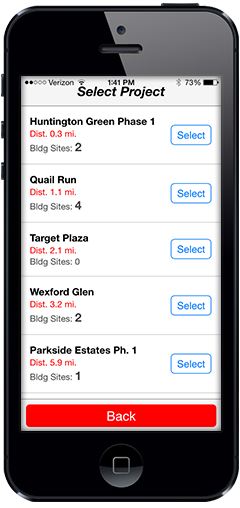 SWPPPTrack knows which projects you are responsible for. Simply select the appropriate site and begin your inspection.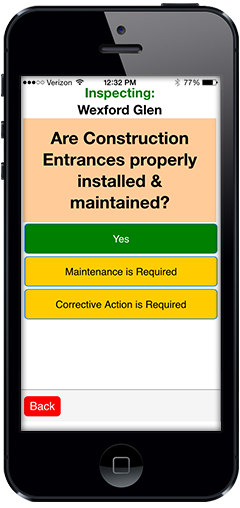 When a deficiency is identified designate the type of action required. Then dictate notes and take photos with your device. They automatically attach to the inspection.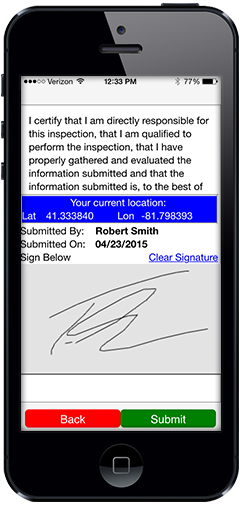 Simply sign on the screen and touch submit. The inspection is logged and the report is created and delivered. Work items are delivered with location, notes and photos to the responsible parties. SWPPPTrack continues to follow up for you automatically until work is completed.
SWPPPTrack is Flexible
With SWPPPTrack YOU are in control. At setup, SWPPPTrack is configured to meet your needs and your processes.
Inspect and track everything easily:
Entire Projects
Individual Sublots
Post Construction BMPs
Citizen Concerns
All Types of Stormwater Infrastructure
SWPPPTrack serves every industry sector:
MS4
Development and Construction
Highway, Transportation and Linear
Industrial
Energy
Whether you are a DOT, municipality, builder, developer, private inspector, consultant, service provider, environmental agency or anything in between, SWPPPTrack will deliver a tailored fit for the work you do.
Management & Oversight Simplified:
All your SWPPP related data is automatically gathered, stored and managed on secure servers, then formatted and presented on an intuitive dashboard.
Want to know how your organization is performing?
Simply log onto your secure SWPPPTrack account and it's all there.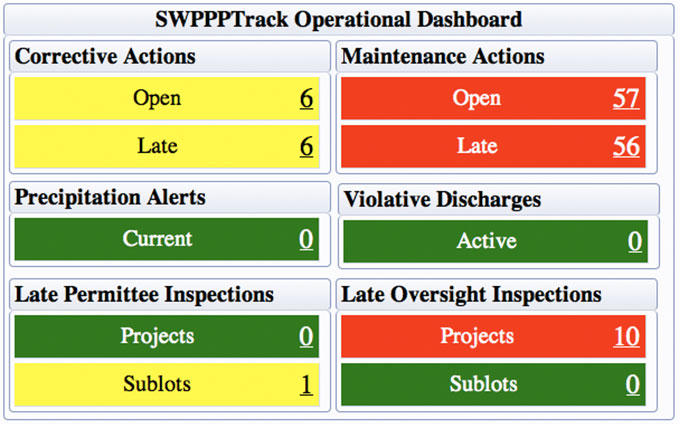 You are always just a click or two away from the answer to any question you can imagine.
Could you be subject to an audit?
SWPPPTrack's proprietary Active Audit feature lets you perform a thorough and comprehensive self audit with just one click.



AND with SWPPPTrack's powerful document management tools you can be 100% paperless!
You will no longer need to store even one piece of SWPPP related paper.
No permits, no plans, no reports….nothing!
SWPPPTrack even provides annual MS4 reporting data with just one click.
Keep Projects & People On Track:
SWPPPTrack keeps track of all of your projects and the people affiliated with each of them.
SWPPPTrack's powerful event tracking and notification engines ensure that everyone in your organization gets exactly the information they need when they need it.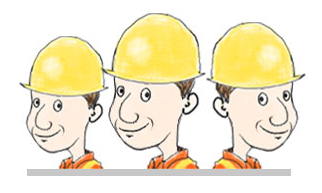 SWPPPTrack even keeps track of open NOI's and (when it's time) reminds you to file your NOT's.
No IT Department Required:
SWPPPTrack is cloud based, so you don't have to mess with anything technical. It requires no installation of software, other than the Inspection App on inspectors' smartphones or tablets.

Who We Are:
SWPPPTrack sprang from the minds of the Web App Express development team. Web App Express has designed and developed software and cloud-based apps (like SWPPPTrack) that automate and simplify some of the most complex business processes imaginable. Our clients include demanding organizations from both the private and public sectors.
One of our founders has nearly three decades of experience in development and construction. We have felt your pain!
We're headquartered in Ohio and bring a Midwestern work ethic and sensibility to everything we do.
Schedule an Online Demo
. . .but is it REALLY that easy to use? And how much change will we REALLY need to make to integrate it with how we do things here? Simple, let's do a brief online demonstration to get all your questions answered:
Wait a Second, What's the Catch??
SWPPPTrack looks and sounds great, doesn't it? Which can mean there's a catch:
"Will we have the support we need?"
It's not expensive. In fact, the system can be free for government agencies using it in conjunction with the builders and developers they serve. We spent a couple man-years designing it to be simple to use, AND, you are just a click or call away from our service and support team.
Relax, no catches here.

---
All text, design and content is Copyright 2014-2016 Storm Water Simplified Ltd.
All rights reserved.
Email us